MITC2015 | All Right Reserved
SUBMISSION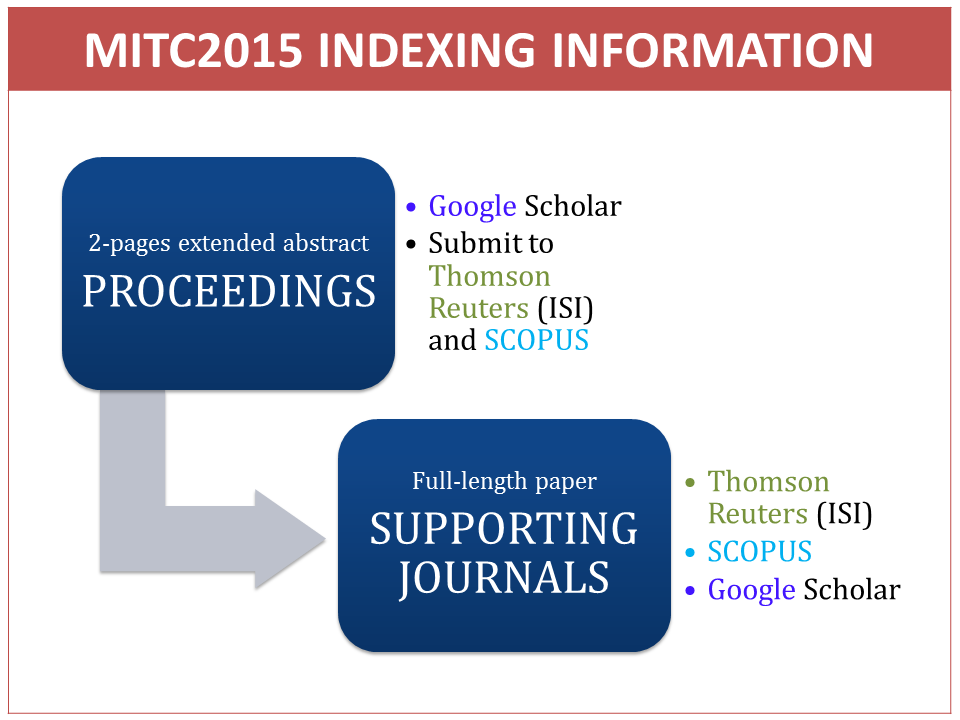 Prospective authors are kindly invited to submit their 2-pages extended abstract. The extended abstracts accepted for presentation will be published in the conference proceedings with a unique eISBN [click here], subject to author registration and payment. The proceedings will be indexed in Google Scholar. In addition, the proceedings will also be submitted to Thomson Reuters (formerly known as ISI) Conference Proceedings Citation Index™ and SCOPUS for indexing consideration in Web of Science® coverage.
All submitted extended abstracts will be peer reviewed and evaluated based on originality, research content, correctness, relevance to conference, and readability.
Technical Pre-Screening is carried out by MITC2015 Technical Committee prior to peer review process to check that the extended abstract is comply with conference scope and paper guidelines, complete (i.e. title, affiliations, keywords, main text, and a reference list), English is sufficient for peer review process, figures are complete and clear enough to read. Submitted extended abstracts not meeting these requirements will be returned to the authors who may re-submit their extended abstract after dealing with the issues raised. Thus, authors are advised to read the paper guidelines carefully and follow them strictly.
Extended Abstract Preparation
The extended abstract should be written in English including figures, tables and references. The abstracts should be 2-pages in length.
A Microsoft Word template with the guidelines is available to help in the preparation of abstracts [click here].
Extended Abstract Submission
Initial extended abstract must be submitted in PDF format, while for camera-ready extended abstract in Word format.
Full-Length Paper Submission
After notification of abstract acceptance, authors are encouraged to submit high quality manuscripts in one of our supporting journals (ISI/SCOPUS/Google Scholar indexed). The possibility of inclusion is very high [click here].