PROCEEDINGS
SUPPORTING JOURNALS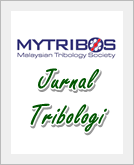 NEWS & UPDATES
| | |
| --- | --- |
| | MITC2015 Proceedings has now been indexed in Thomson Reuters Conference Proceedings Citation Index in WoS coverage [click here for screen shot] [click here for printed version] |
| | List of Awardee for Young Tribologist and Best Presenter [click here] |
| | The final programme e-book has been released [click here] |
| | MITC2015 has been recognized by the Board of Engineers Malaysia [click here] |
| | Keynote and Invited Speakers have been updated [click here] |
| | Authors with accepted extended abstracts are encouraged to submit high quality manuscripts in one of our supporting journals (ISI/SCOPUS/Google Scholar indexed) [click here] |
ABOUT US
Download the high definition MITC2015 group photo [click here]
Starting off as the National Tribology Conference in 2009 (NTC2009) and the Regional Tribology Conference in 2011 (RTC2011), the conference was renamed as the Malaysian International Tribology Conference in 2013 (MITC2013) to give a more global image. Malaysian Tribology Society (MYTRIBOS) is ever committed to continuously organize an international conference in the effort to advance tribology for a more sustainable world.
In this coming 2015, once again, MYTRIBOS in association with the Centre for Advanced Research on Energy (CARe) of Universiti Teknikal Malaysia Melaka (UTeM) and other participating universities and industries is geared to organize the Malaysian International Tribology Conference 2015 (MITC2015). The MITC2015 is also supported by the International Tribology Council (ITC). The conference will take place in Penang during 16 ~ 17 November 2015.
The capital city of Penang is the George Town. This historical city centre has been listed as a UNESCO World Heritage Site [click here] since 2008.
The objective of MITC2015 is for the scientists, scholars, engineers and students from universities, research institutions and industries all around the world to present findings of ongoing research activities, and hence foster research collaborations between the universities and the industries. The other objective is to introduce young tribologists in the scientific field of tribology through keynote lectures and presentations, to offer mentoring through senior scientists, and to foster the building of networks through the informal style of the event.
All accepted 2-pages extended abstracts will be published in the conference proceedings with a unique eISBN [click here], subject to author registration and payment. The proceedings will be indexed in Google Scholar. In addition, the proceedings will also be submitted to Thomson Reuters (formerly known as ISI) Conference Proceedings Citation Index™ and SCOPUS for indexing consideration in Web of Science® coverage. Authors are required to present their research findings at MITC2015.
Authors with accepted extended abstracts are encouraged to submit high quality manuscripts in one of our supporting journals (ISI/SCOPUS/Google Scholar indexed). The possibility of inclusion is very high [click here].

MITC2015 | All Right Reserved